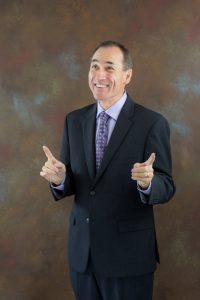 Randy Bartlett has been a full-time mobile DJ since 1989. Since then, he has performed at thousands of events, and now specializes in weddings. He regularly commands a fee well above his market average, utilizing the same techniques he teaches in The 1% Solution and his business has been self-sustaining for many years, relying completely on direct referrals.  
His seminars, packed with easy to follow and proven techniques for success on topics ranging from Being The Master Of Ceremonies to Transitions, Introductions, Talent Vs. Skill and many more, have been received by standing room only audiences for Mobile Beat Magazine, the Las Vegas DJ Show, DJ Times' DJ Expo, Pro Mobile in England, The Canadian DJ Show, The Mid-West DJ Conference, ARMDJS,  as well as local groups such as the ADJA, NACE, AfWPI, SAMMP, PADJ, SNAPDJs, Golden Disc Awards, and regional conferences.
He has written for and been featured in Mobile Beat Magazine, DJ Times, The Current Audition, as well as being a contributor to countless online resources, and hosts his own Facebook Groups – The 1% Solution and The 1% Solution Workshop Grads.