Volume 4: Behind The Scenes $99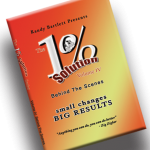 Like any well produced event, much of the success of a wedding is done behind the scenes. In Volume 4 of The 1% Solution, Randy Bartlett takes you Behind The Scenes, to demonstrate how to create the illusion of spontaneity, in a well orchestrated production. Watch as as walkways seem to open all on their own, guests rise in unison to give the bride and groom and groom a standing ovation without direction from the DJ, circles of friends and families magically form around a bride and groom on the dance floor and much more.
In this DVD, you'll follow Randy behind the scenes, as the camera and mic is on him as he talks to the parents, the guests, the vendors, the wedding party and staffs behind the scenes at real weddings to create the magic that is planned spontaneity. Learn the secrets that will help you transform your weddings from ordinary to extraordinary, all Behind The Scenes.